Payment: in $ USD
We accept payments through PayPal & Bitcoin.
For orders less 60$ is availible pay directly from cards Visa / MasterCard / JCB / Express / Google Pay / Apple Pay.
We don't store any credit card information.
We will never share your personal and private information with anyone.
Shipping Worldwide, 2-3 weeks delivery.
Shipping costs 5-10$ for small parcels contain hands, dials, bezels / 10-15$ for orders contain watches, cases, bracelets.
We use Russian Post and Kazakhstan Post Registered AirMail® service, tracking number provided.
We always combine shipping, You'll be never charged any extras for many items in one parcel.
For EU & UK buyers we manage somethinig for small parcels with little items like hands, dials and bezels comes with VAT 0%.
Shipping cost calculates automatically during checkout, due carrier will be used for shipping: RuPost or KazPost - depends of your country of delivery.
To some Europe countries Russian Post now deliver even better than was before sanctions and COVID.
Here is a list of some last parcels we sent by RuPost in April 2022: 17track.net
You can check by thouse tracking numbers approximate delivery time.
We're updating tracking numbers list monthly for You can see actual info.

What countries we ship via KazPost?
USA, Canada, New Zeland, Australia, Finland, Norway, Sweden, Denmark, Poland, Luthuania, Mexico, Brazil (this list of countries updated here asap)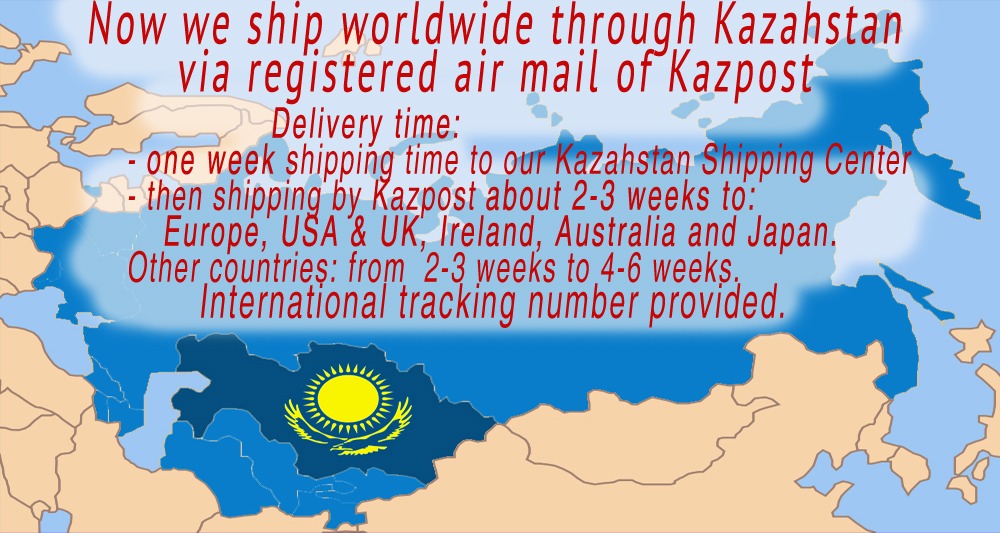 Express shipping: nowdays, there is no too much differences in delivery time between EMS and regular AirMail registered RuPost & KazPost service.
So, we use Registered AirMail®.
You can always track your parcel on any online tracking service, like 17track.net and parcelsapp.com.
We provide Buer's Portection Programm — the same like was in our ebay store — 30 days moneyback warranty after item is received, 1 year for mechanical movements and 1 year for customized spare parts, we accept returns (back shipping pays buyer). Due covid quarantine on some countries around the world have restricted the processing of international correspondents to prevent the spread of COVID, here is Excludes List where temporarily we can't sending parcels: Algeria, Angola, Benin, Botswana, Burkina Faso, Burundi, Gabon Republic, Gambia, Ghana, Guinea, Guinea-Bissau, Congo, Zambia, Zimbabwe, Cape Verde Islands, Cameroon, Comoros, Côte d'Ivoire (Ivory Coast), Lesotho, Liberia, Libya, Mauritius, Mauritania, Madagascar, Malawi, Mali, Morocco, Mozambique, Namibia, Niger, Nigeria, Congo, Rwanda, Seychelles, Senegal, Somalia, Sudan, Sierra Leone, Tanzania, Tunisia, Uganda, Central African Republic, Chad, Equatorial Guinea, Eritrea, Ethiopia, Antigua and Barbuda, Bahamas, Barbados, Belize, Bolivia, Haiti, Guyana, Guatemala, Honduras, Grenada, Dominica, Costa Rica, Nicaragua, Panama, Paraguay, El Salvador, Saint Vincent and the Grenadines, Saint Kitts-Nevis, Saint Lucia, Suriname, Trinidad and Tobago, Uruguay, Ecuador, Jamaica, Vanuatu, Kiribati, Marshall Islands, Nauru, Palau, Papua New Guinea, Solomon Islands, Tonga, Tuvalu, Micronesia, Fiji, Togo, Republic of, Western Samoa